(
1
votes, average:
4.00
out of 5)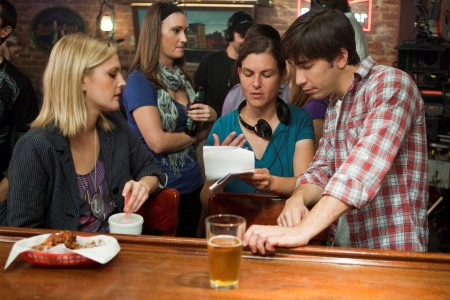 Though today technically is Labor Day, the hard working people of this nation have been celebrating all weekend long, hopefully with hot dog in hand.  And what better way helped digest all that BBQ food than with a trip to the movies, right?
Wrong.
Labor Day is usually a pretty slow weekend for Hollywood.  Not many people want to sit in a dark theater on the last official weekend of summer.  This is why you won't see any block busters starring Will Smith or Tom Cruise (when he was relevant) in your local cineplex.  Instead, you get to choose from a variety off-beat, lower budge and indie picks.  This isn't a bad thing, by any means – some of the films released this weekend have gotten rave reviews and critical acclaim.
Let's take a look at the numbers, shall we:
The American, starring the sexiest man alive, George Clooney, ranked #1, raking in $12.9 million.  Set in Italy, Clooney plays an assassin shrouded in loneliness.  Good times.
Takers, a film I hadn't heard of until writing this post, took the #2 spot with $11.4 million.  According to movieweb.com, they "found Takers to be one of the summer's more enjoyable surprises. It's the perfect end-of-the-season fare with a charming bite, some outlandishly entertaining stunt sequences, and a go-get-em attitude not so much in it's story, but in it's audience appeal."
Machete, Robert Rodriguez's campy, bloody and intentionally over the top action film, came in a close 3rd with $11.2 million.
The Last Exorcism took the #4 spot with $7.6 million.  I have nothing to say about this film because I am such a chicken about horror films that I can't even read a review.  Sorry.
Rounding out the top 5 with $6.8 million, was the clever rom-com Going the Distance. Starring on again, off again couple Justin Long and Drew Barrymore, and a hilarious all star cast including SNL star Jason Sudeikis and It's Always Sunny in Philadelphia star Charlie Day.
Keep in mind, that I was one of those BBQ-loving-must-be-outside-before-the-deep-freeze-sets-in-hot-dog-in-hand Labor Day-ers, so I didn't actually go see any of these these films this weekend.  When I do get around to it next week, though, you can be sure that I'll be Going The Distance.
Tags:
box office numbers
,
celebrities
,
celebrity news
,
hollywood
,
Italy
,
labor day weekend movies
,
movie reviews
,
movies
,
philadelphia
,
sex
,
tech
,
technology
,
top five movies
,
US News
,
weekend box office
---
---
Leave a Reply