(
3
votes, average:
4.67
out of 5)
Oh, those crazy New York Jets, what with their potty-mouthed head coach, holdey outey star cornerback, and beautiful quarterback. All off-season they've been in the limelight and it appears at least one of their players wanted a little more attention.
Jets wide receiver Braylon Edwards was arrested on suspicion of DUI Tuesday morning in Manhattan, according to the Huffington Post.
Edwards reportedly blew a .16 on a Breathalyzer test, which is double the state's legal limit of .08.

Whoever is in control of Edwards' twitter account didn't hear the news of his arrest, however. A tweet from his account around 8 a.m. said, "GoodMorning World…Winning is the goal, perfection is the aspiration, & dedication is the key to unlock the door #LetsWork."
Why the heck was he out at 5:14 a.m.? He's a professional athlete. Don't they need lots of rest and recuperation so that they can go into the next game and be fresh and all about touchdowns?
I wonder how this will go over in the locker room.
Meh. Maybe no one will even notice.
Either way, Braylon's got himself a nice beard going on.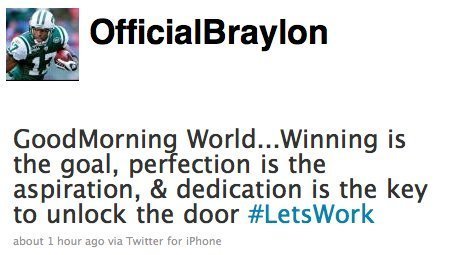 Tags:
arrested
,
athletes
,
braylon edwards
,
braylon edwards arrested
,
braylon edwards dui
,
Breaking News
,
legal
,
legal issues
,
New York
,
quarterback
,
Twitter
,
US News
,
World News
---
---
---
No Comments
---
Trackbacks
Leave a Reply