(
2
votes, average:
4.50
out of 5)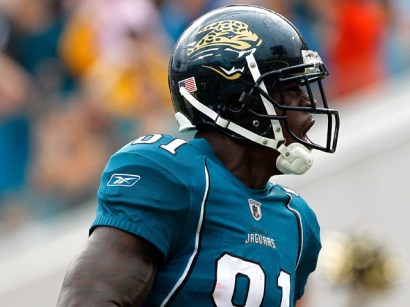 Ah, the unstable ex-boyfriend or girlfriend. Truly a one-of-a-kind animal when unleashed in the right environment. Unreasonable, wide-eyed and with one mission: to destroy the happiness of their ex.
Ex-Jaguars wide receiver Kassim Osgood knows this all too well.
Osgood was at a 19-year-old woman's house in Jacksonville on Monday afternoon when an intruder, allegedly the teen's ex-boyfriend, entered the home, reported the Florida Times-Union.
Osgood and Mackenzie Rae Putnal, a Jaguars Cheerleader, were on the second floor of a residence watching TV when a man with a plastic bag on his face pointed a gun at them. Apparently some home invaders don't value breathing. Just sayin'.
The gunman proceeded to pull the teen around by her hair, as well as striking her with the gun and his fists; he also pistol-whipped Osgood, the report stated. The suspect also struck the woman's dog repeatedly, according to the police report. Via NBC
Wait, it gets better… and worse.
Putnal then got a gun and started firing back after big former NFL player Osgood fled to call 911.
While Osgood was out of the house, Putnal, who had armed herself, exchanged gunfire with the intruder, the paper reported. Neither was injured.
Police have charged Julian Armond Bartletto, 20, with aggravated battery, false imprisonment, armed robbery, burglary and violation of an injunction, according to NBC.
Well, at least we know why Osgood is a former Jaguar. His girlfriend apparently wears the football pants in that relationship.
Tags:
crime
,
Florida
,
football
,
football news
,
jacksonville jaguars
,
julian armond bartletto
,
kassim osgood
,
mackenzie putnal
,
NFL
,
police
,
television
,
tv
,
US News
---
---
---
No Comments
---
Trackbacks
Leave a Reply