(
1
votes, average:
5.00
out of 5)
You'd think after Anderson Cooper was attacked by protesters in Egypt, he might get the heck out of Cairo. But, ever the hard hitting (and handsome) newsman, Cooper plans to stay in the budding war zone and report from the front line.
Keep reading for details.
If you missed it earlier, here's video of Anderson Cooper explaining in detail about being punched by 10 pro-Mubarak supporters near Tahrir Square.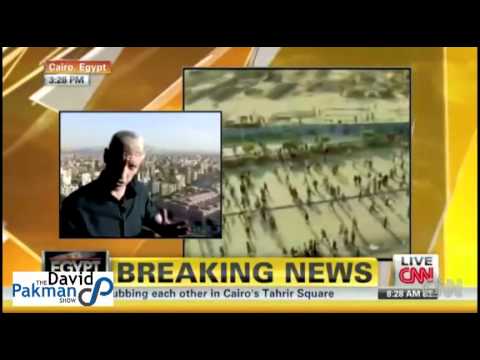 But the show must go on. CNN cheif international chief Tony Maddox has no plans on pulling Cooper out of there.
You cannot cover stories like this with agency photos and sitting behind a desk in the U.S. You can do it in a safe and responsible way and continue to be at the heart of this story.
Once he was out of harm's way, Cooper tweeted: Got roughed up by thugs in pro-mubarak crowd..punched and kicked repeatedly. Had to escape. Safe now.
Kicked repeatedly? Ouch.
Still, he's staying put. All in all, CNN has about 35 employees (including 8 correspondents) in Egypt now. They've beefed up Cooper's security team and will alter slightly the way they cover the news now that the rioting has turned violent. You can be sure, though, that CNN will still be in the thick of action. And, to be fair, this isn't Cooper's first brush with a scary news reporting situation.
…He's been in a few dodgy situations in the past… but if you have the right people, the right operating methods and the right level of experience and equipment, you an provide compelling coverage in a really compelling way.
Tags:
al jazeera
,
anderson cooper
,
anderson cooper attacked
,
anderson cooper egypt
,
Breaking News
,
CNN
,
cnn live
,
crime
,
entertainment
,
police
,
President
,
television
,
tv
,
US News
,
World News
---
---
Leave a Reply