(
1
votes, average:
5.00
out of 5)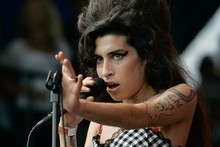 Russell Brand
took to his blog today to write a tribute to soul singer
Amy Winehouse
, who was
found dead in her north London home
just after 4pm on Saturday. She was 27.
Tributes to Winehouse have been pouring in from celebrities. Russell Brand, a former addict himself, befriended Winehouse back in 2003.
Winehouse struggled with drug and alcohol addiction for many years, and that may or may not have been the cause of her untimely demise.
Keep reading to see what Russell Brand had to say… after the jump.

To put bluntly, Brand had this to say:
'She was a f**king genius'
In a post titled For Amy, Brand said when he first met Amy he thought she was "just some twit in a pink satin jacket shuffling round bars".
Only later, after Winehouse rose to fame, did he see her talent.
He described her as "sweet and peculiar but most of all vulnerable" and had a "voice that was filled with such power and pain that it was at once entirely human yet laced with the divine."
Brand was also 27 when he sought treatment to kick the habit.
Addiction is a serious disease; it will end with jail, mental institutions or death…Now Amy Winehouse is dead, like many others whose unnecessary deaths have been retrospectively romanticised, at 27 years old. Whether this tragedy was preventable or not is now irrelevant. It is not preventable today. We have lost a beautiful and talented woman to this disease. Not all addicts have Amy's incredible talent. Or Kurt's or Jimi's or Janis's, some people just get the affliction.
---
Leave a Reply