(
3
votes, average:
4.67
out of 5)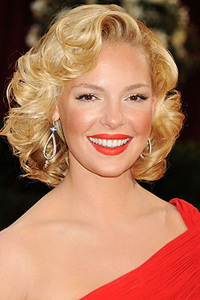 Katherine Heigl went topless for Us Weekly, wearing nothing but underwear and heels while holding a pouting puppy. Oh, the things that celebrities will do for…charity?!?
The rom-com actress and "Grey's Anatomy" alum stripped down to her knickers for the Jason Debus Heigl Foundation, a charity she founded in 2008 with her mother, Nancy, and named in honor of her late brother who passed away at age 15 in 1986. The Foundation is dedicated to protecting the welfare of animals—a passion that Jason lived his life pursuing.
In more promotional efforts, Heigl also partnered with Funny or Die to create a hilarious public service announcement that raises awareness for and support pet spay-neuter programs, the new campaign of the Foundation called "I Hate Balls!" In the video, Heigl sarcastically jokes about hating testicles—she would cut them off of men, but she prefers to do so from animals since it's legal! She introduces a dog onscreen:
He's 100% adorable, but because he's been neutered. He was only 98% adorable and 2% dangly, disgusting balls. Seems like an improvement to me!
Though Heigl and Funny or Die have managed to make many jokes of the matter, the new website IHateBalls.com informs visitors that five million pets are killed every year in animal shelters. If more owners had their dogs and cats neutered and spayed, there'd be less unwanted overflow, hopefully stopping the killing of animals in shelters altogether.
The Foundation is collecting funds via text donations and selling "I Hate Balls" merchandise. Watch the video to learn more about Heigl's cause and her hilarious hate of the male anatomy!
Photo credit: SheKnows.com via WENN.com
---
Leave a Reply